Back End Development Services
Robust, Scalable, and Secure Solutions
Today's digitally-driven businesses demand continuous innovation in the development and delivery of their back-end systems. Those, who slow to evolve and transform, are at a higher risk of falling behind and losing revenue opportunities. You must continuously upgrade your back-end systems with the best practices and latest technologies to boost operational efficiency, improve time-to-market, and bring positive change.
 
Minds Task Technologies offers robust back-end development services to help you excel fast in the era of digital products. We utilize the latest development tooling, and industry-leading back-end approaches to execute your strategy. Our back-end development solutions are easy to scale, highly efficient, and innovative to achieve greater satisfaction from your business stakeholders.
Our Back End Development Services
Node.JS
Build scalable back-end systems with speed, efficient, and lower development costs. Leveraging Node.js, we help you build high-performance, highly scalable back-end systems for IoT applications, microservice development, desktop applications, and more. Our talented software engineering team can develop a diverse range of solutions for real-time application, IoT device, or high-traffic sites.
PHP
Customize, modernize, upgrade, or build from scratch using our PHP expertise. Minds Task Technologies provides you end-to-end services, from designing, developing, testing to integrating secure PHP-based back-end systems. We use industry-leading methodologies, tools, and frameworks to deliver your project within budget and timeline. Hire our expert PHP developers at a competitive price.
Custom Development
Get complete flexibility, choice, and freedom to innovate and improve business performance with our custom development services. We offer specialized custom back-end development services using dedicated resources, industry-leading development techniques, and suitable software engineering methodologies and models. Get high performance at reduced development cost.
Back End Development Our Approach
Define and scope the business requirements in order to go from idea to prototype quickly.

Build front-end UI and templates as per your branding guidelines and touchpoints you want to cover.

Perform key development activities associated with the creation of the code release considering code enhancements, development effort and time to deploy.

Analyze all the activities required to ensure the quality of the release, including gate tests such as user acceptance testing (UAT), smoke testing, etc.

Push the application to release or a location used to stage the application ready for release.

Schedule, provision and deploy the application into production and then track, log, and provide report on the release activity.

Take care of additional IT infrastructure provisioning and configuration activities that are generally configured after creation and verification of the app.

Continuously focus on the health of the application and infrastructure and the impact of a release on the connected systems and devices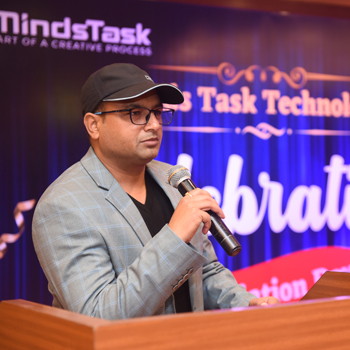 Hi, I am Sudhanshu Kumar Singh
Looking to hire an experienced backend development team? Contact our experts.
FAQ About Back-end Development Services