Create Outstanding Mobile Experiences
Power quality and improve reliability of your applications
The thriving capabilities of mobile devices have created new opportunities for enterprises to gain business benefits from mobility. Whether business-to-business (B2B), consumer-facing (B2C), internally used (B2E), or aimed at exchanging services and information between businesses and suppliers (B2B), mobile apps are now expected to be a crucial part of organizations' business strategies.
Minds Task Technologies' mobile application development services lead you into a world of better application experience by shaping your ideas into reality with cost benefits. Our team can produce apps tailored for any platform and operating system. We work in every significant mobile development platform, including Android (mobile and tablet), iOS (iPhone and iPad), Windows Phones, React Native, and Flutter.
5+ iOS & Android App Developer 

Supporting 5+ active clients across 4+ countries

1 Project Manager
Our Mobile Application Development Services
iPhone Apps Development
Build innovative iPhone and iOS apps that stand the test of time. From design, development, testing to deployment, we offer distinctive expertise in rolling out iPhone, iPad, and customized iOS apps, optimized for better user experiences. We have delivered highly scalable iPhone and iPad apps for diverse industry verticals in record times and at a competitive cost.
Android Apps Development
Develop creative and interactive Android apps with a universal user interface. Our Android app development team has proven expertise and experience that can show you how all the technical and nontechnical pieces or features fit together to execute your ideas. We ensure you get better brand visibility, improved Android user experience, and business growth at reduced TCO.
React Native Apps Development
Create multiplatform design, universal design, and hybrid design for Android, iOS, and the web. We offer a complete native integrated development environment (IDE) to execute your mobile app idea from designing, developing, compiling, testing, and deploying your app. We ensure that you can reuse business logic, scale fast, and easily extend specific features and functionalities without any technical complexity and hidden development cost.
Flutter Apps Development
Create flexible, scalable, secure, and intuitive Flutter-based applications for a highly personalized experience. We help you build fantastic and seamless applications for iOS, Android, and the web from a single codebase. We offer Flutter app consulting, UI/UX design, customized app development, API development & integration, and maintenance & support. Our objective is to deliver an amazing experience and boost business growth.
We first understand your business dynamics and project requirements to on-board the right resources — including tool & technologies, people, and methodologies. We then prioritize the app development by analyzing the needs of business stakeholders; so that you get optimal app quality, increased app delivery speed, and positive ROI. At Minds Task Technologies, we implement a product management approach to your mobile app strategies and application life cycle management as per your business needs. Our mobile apps development practices focus on enabling you to become more responsive to your customer demands and win more prospects through mobility
Rapid Prototyping

Create a working prototype of your app in a short amount of time. This approach can help you test the app's functionality and user experience early on in the development process, gather feedback from users, and make changes as needed.

Cross-functional Teams

We bring together experts from different areas, such as design, development, and testing, to work collaboratively on the project. This enables us to streamline the development process, ensure that everyone is on the same page, and create a high-quality app.

Hybrid Approach

A hybrid approach involves combining different methodologies to create a custom approach that fits your project's specific needs. This helps us balance flexibility and structure, speed up the development process, and deliver a high-quality app on time and within budget.
Why Choose Minds Task Technologies
| | | |
| --- | --- | --- |
| Culture and Innovation | Experience and Expertise | Industry-standard SLAs and Security |
| Promote open-minded culture to inspire persistent innovation in mobile app development | Highly skilled and experienced technology consultants, architects, designers and developers, and QA engineers | Apply industry-leading standards and security frameworks |
| Bring perspective, context, ethics to deliver remarkable businesses results | Deep knowledge of the latest mobile app development technology and tools | Ensure confidentiality and protection of your business-critical data |
| Learn and adapt fast to keep pace with changing mobile app ecosystem | Adopt best practices and framework for cost efficiency and faster time-to-market | Strictly follow compliance, regulatory guidelines, and policies |
| Explore exciting ways to tap into dynamic worlds of mobile apps | Hands-on experience in working with diverse industry verticals | Ensure confidentiality and protection of your business-critical data |
| Treat each mobile app as your product and not a project | Partnership with leading software and solutions providers | Formalize service level agreements as per the client's unique requirements |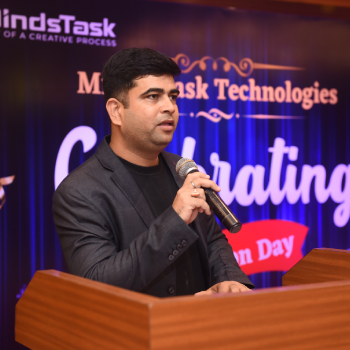 Hi I am Manish Kumar Singh
LOOKING FOR A MOBILE APP DEVELOPMENT PARTNER?
Contact us today for a free quote within 2-3 business days
FAQ on Mobile App Development Services
Get In Touch for Mobile App Development Services