The-Year-End-Sales-Dilemma
Today, every business is striving to become a digital business and navigating various stages of their digital transformation journey. Technology has become a central component for businesses to blur the lines between digital and physical worlds and enable dynamic and complex interaction between people, businesses, and intelligent things.
There is no one size fits all approach to digital and every organization must understand what 'going digital' means to them and do their due diligence of competences, capabilities, investments, and risk appetites. To succeed, it will be critical to have the right partners to support your business initiatives and bring in the right technology expertise.
PHP Development Services Tailored for You
Minds Task Technologies is a leading PHP development company with an excellent track record in delivering diverse solutions. We have a team of experienced and skilled PHP developers who have over 15+ years of experience to help you build custom, scalable, and secure PHP applications. We offer end-to-end PHP development services to cater your diverse range of business needs.
PHP Application Development
Harness the power of bespoke web solutions tailored to your unique business needs. We help you create dynamic, feature-rich applications tailored to your unique requirements that captivates your audience. Our goal is to develop flexible, robust, and high-performing web applications that drive efficiency and grow your bottomline.
eCommerce Development
Boost your online sales with a secure and feature-rich PHP e-commerce platform. Our eCommerce development team facilitates you to develop secure and scalable eCommerce platforms that drive sales and revenue. Our eCommerce development solutions provide your customers with a seamless shopping experience they won't forget.
Application Modernization
Modernize and transform your existing PHP-based applications to meet current technological and business requirements. Our application modernization services help you make improvements to the architecture, functionality, user experience, and performance of your existing PHP application. We ensure the implemented solution remains relevant and competitive in a rapidly evolving digital landscape.
Cloud-based Application (SaaS) Development
Revolutionize software delivery by offering flexible and feature-rich applications without the complexities of traditional software installation and maintenance. Our cloud-based application development services include careful planning, technical expertise, and ongoing commitment to improvement. We ensure the delivered applications are accessible, scalable, and cost-effective.
Web Services & API Development
Define a strategic approach for API development. We enable you to leverage APIs and web services for improved functionality, data sharing, automation, and enhanced customer experiences. Utilize our diverse expertise and experience to create, maintain, and optimize your APIs and web services. We also provide recommendations on API design, security, scalability, and integration strategies.
PHP Support and Maintenance Services
Get the smooth performance of your PHP-based systems with our reliable maintenance and support services. We make sure the stability, security, and performance of PHP-based applications, allowing you to focus on your core activities while leaving the technical upkeep to our experts. Optimize your expenses while maintaining performance and reliability.
PHP Frameworks and Platforms
We help you make an informed decision on popular PHP frameworks like Laravel, Symfony, and CodeIgniter for rapid development.
Laravel
As an industry-leading web application framework, Laravel offers an array of features that simplify and expedite the development of robust, secure, and scalable web applications. Our Laravel services include custom web application development, API development, e-commerce solutions, content management systems (CMS), and enterprise software solutions.
Magento
Magento offers a comprehensive and powerful e-commerce platform tailored to the unique needs of businesses. Minds Task Technologies provides a suite of services encompassing everything from online store development and design to maintenance, customization, and optimization. We focus on delivering a seamless and engaging shopping journey while driving growth and profitability in the digital era.
Symfony
Symfony is a set of reusable PHP components and a PHP framework. It is a leading PHP web application framework renowned for its versatility and robustness. By leveraging Symfony's capabilities, we empower organizations to build high-quality, scalable, and secure web applications efficiently. Our solutions help you enhance user satisfaction and gain a competitive edge in the digital landscape.
Pimcore
Pimcore, an open-source digital experience platform, offers a comprehensive solution for managing product information, digital assets, customer data, and content in a unified manner. Our Pimcore development services empower you to drive innovation, improve operational efficiency, and stay ahead in today's competitive digital landscape by harnessing the full potential of their data and experience.
Business Benefits of PHP Development
Flexibility and Scalability:

PHP is a versatile language that can be used to develop a wide range of web applications, from simple websites to complex e-commerce platforms. It is also highly scalable and you can easily add new features and functionalities as your business requirements evolve.

Rapid Development:

With a vast ecosystem of pre-built libraries and frameworks, it enables rapid development. This translates to shorter time-to-market for your projects.

Highly Secure:

PHP has a strong focus on security, and when implemented correctly, it provides a robust shield against online threats and vulnerabilities.

Cross-Platform Compatibility:

PHP works seamlessly across various operating systems and can be integrated with different databases, ensuring compatibility with your existing infrastructure.

Huge Active Community:

PHP has a large and active community of developers who contribute to its growth and improvement. This means that there are many resources available to help you find qualified PHP developers and get support for your projects.

Cost-Effective:

PHP is an open-source scripting language, which means you don't have to invest in expensive licenses. This makes PHP development a cost-effective choice for businesses of all sizes.
Why Choose Minds Task Technologies
PHP Expertise:

Our team comprises highly skilled PHP developers with a decade of experience in crafting cutting-edge web solutions. We stay updated with the latest PHP trends and technologies to ensure you receive the best.

Customized PHP Solutions:

We don't believe in one-size-fits-all solutions. At Minds Task Technologies, we work closely with you to understand your unique needs and deliver tailor-made PHP solutions that align with your goals.

Quality Assurance:

We maintain the highest standards of quality throughout the development process. Rigorous testing, code reviews, and continuous improvement are the cornerstones of our approach.

On-Time Delivery:

We understand the importance of deadlines. Our commitment to on-time project delivery ensures your business operations remain uninterrupted.

Support and Maintenance:

Our relationship doesn't end with project delivery. We provide ongoing support and maintenance services to keep your PHP applications running smoothly.
Hire Dedicated PHP Developers
Partner with Minds Task Technologies for unparalleled PHP Development Services. We can help you find the right PHP developer for your project, regardless of its size or complexity. We also offer a variety of engagement models to fit your budget and needs, including:
Full-time

Part-time

Hourly

Project-based
Benefits of hiring our dedicated Python developers:
With years of experience in PHP development, we understand the ever-evolving web landscape.

Our experts stay updated with the latest trends and technologies to deliver future-proof solutions.

Our dedicated PHP developer works closely with you to understand your goals, ensuring every project aligns with your vision and objectives.

Our streamlined development process ensures your project is delivered on time, every time.

We offer competitive pricing without compromising on quality.
At Minds Task Technologies, we're passionate about PHP development, and we're ready to transform your digital landscape. Contact us now to embark on your PHP journey!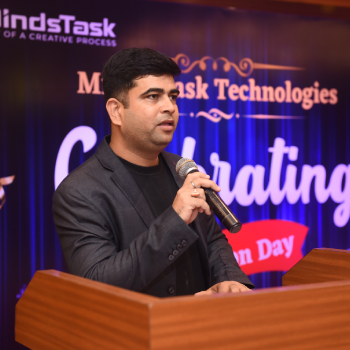 Hi I am Manish Kumar Singh
Looking for complete Php Web services. Let's connect and Get 30 min Free consultation.