The-Year-End-Sales-Dilemma
Symfony Development Services
Symfony is a PHP framework that can be used to build complex and scalable web applications. It is a popular choice for enterprise applications because of its reliability, security, and easy adaptability.  With its powerful capabilities and extensive ecosystem, it deliver excellent results for organizations of sizes. However, leveraging its full potential often requires a deep understanding of its intricacies.
At Minds Task Technologies, our team of Symfony experts provides top-notch Symfony services  from inception to deployment to ensure your project's success. Our team is highly experienced with a comprehensive understanding of Symfony's architecture, components, and development best practices.
Our Symfony Development Services
Every project is unique. We tailor our Symfony development services to address your specific challenges and objectives, ensuring the best results.
Symfony Consulting
A strong foundation is the key to building robust, scalable, and efficient applications. Minds Task Technologies brings its expertise right from architecture design, custom development to integration. Our expert team always ensures your Symfony application is built on a solid foundation, aligned with best practices, and ready to meet the challenges of the growing digital landscape.
Custom Symfony Development
From ideation to deployment, we handle every aspect of Symfony application development. Whether you need a simple website, a content management system, or a complex enterprise application, our Symfony expert can handle any complex challenge. Our custom Symfony development services ensure your application perfectly aligns with your business objectives.
Symfony Integration
Seamlessly integrate your Symfony application with other systems and services. This can include integrating with external systems, other web applications, or third-party APIs. Our Symfony integration services help you automate tasks, streamline workflow, and make applications more robust and efficient. We rigorously focus on the security and reliability of the integration process.
Symfony Migration or Upgrade
Is your existing application outdated or running on traditional technology? We can help you migrate to the latest Symfony version, ensuring your application remains secure, efficient, and feature-rich. If you're using older Symfony components, we can assist in migrating to the latest, most secure versions while preserving functionality.
Symfony Custom Component Development
Symfony's robust component ecosystem offers a treasure trove of pre-built tools and libraries. Unlock the full potential of Symfony components with Minds Task Technologies' expert component development services. We help you build Symfony components that are the smart choice for your development needs, like reusable, reliable, and scalable.
Symfony Maintenance and Support
After your application is live, our team is still here to support you. Our maintenance services include security updates, bug fixes, and performance optimizations to keep your application running smoothly. We also offer ongoing component maintenance, keeping your application up-to-date, secure, and efficient.
How Symfony Helps Craft Interactive Digital Experiences
When you encounter hurdles in improving digital experience, Minds Task Technologies provides suitable solutions to personalize the customer experience. We enable you to design and implement digital experiences that are tailored to your customers' specific needs.
Symfony and React.js
Combining the strength of Symfony on the server-side with the dynamic capabilities of React.js on the client-side is a winning formula. At Minds Task Technologies, we specialize in seamlessly integrating Symfony and React.js to create web applications that are feature-rich and visually stunning.
Symfony and Vue.js
Symfony and Vue.js are two of the most popular technologies for web development. By using Symfony and Vue.js together, you can create flexible, scalable, secure, and high-performance web applications that will delight your customers.
Symfony and Angular.js
The synergy between Symfony at the back-end and Angular on the front-end is a recipe for creating modern, dynamic, and user-friendly web applications. Our expertise in seamlessly integrating Symfony and Angular.js to deliver web solutions that are dynamic, responsive, and highly interactive.
Symfony With Other Front End Frameworks
Symfony can be used with any front-end development framework. We help you choose the right front-end development framework that meets your specific requirements, such as the features you need to implement and the level of performance and scalability you need to achieve.
Benefits of Symfony Development
Flexibility: Symfony offers an extensive range of components and tools, allowing developers to craft solutions tailored to your unique needs. Whatever the business requirement – Symfony adapts to your project's specific requirements.
Reusability: Symfony promotes code reusability, saving both time and resources. You can leverage pre-built components to speed up development and maintain consistent, high-quality code throughout your application.
Scalability: As your application grows, Symfony effortlessly scales with it. Whether you're building a simple website or a complex enterprise-level system, this flexible and robust PHP framework can handle it all.
Community Support: Symfony boasts a vibrant and active community. This means that your project is backed by a wealth of knowledge, best practices, and open-source contributions from a global network of Symfony enthusiasts.
Why Choose Minds Task Technologies
Expertise: Our developers have in-depth knowledge of Symfony, ensuring the delivery of high-quality, scalable, and secure applications.
Custom Solutions: We understand that your project is unique. Our team crafts tailor-made solutions to meet your specific needs.
Project Transparency: We keep you in the loop at every stage of development, providing regular updates and progress reports.
Client-Centric Approach: Your success is our priority. We work closely with you to understand your goals and deliver solutions that drive your business forward.
Cost-Effective: MMT offers competitive pricing for Symfony development services, ensuring you get the most value for your investment.
Hire Dedicated Symfony Developers
Minds Task Technologies help you get the expertise and experience you need to build a high-quality Symfony application. Our dedicated Symfony developers can work on your project:
Full-time

Part-time

Hourly

Project-based
Benefits of hiring our dedicated Python developers:
Have the expertise and experience to build high-quality Symfony applications

Get you Symfony developers who are a good fit for your team

Ensure that your project is completed on time and within budget.

Provide you with ongoing support and maintenance for your application.
Ready to harness the power of Symfony for your next web project? Contact us today to get started on your Symfony development journey. Let's build the future together!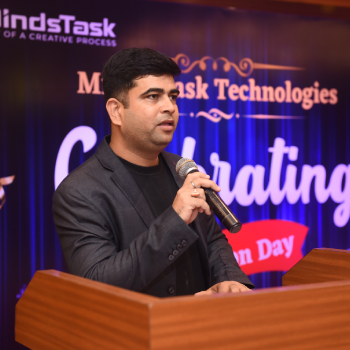 Hi I am Manish Kumar Singh
Looking for complete Symphony development services. Let's connect and Get 30 min Free consultation.