The better synergy between a PIM system and a digital commerce platform is now relevant more than ever to personalize the experience to customers' context.
The value of rich product data management has increased tremendously over the last few years. Product information management and its optimization in digital commerce are now crucial as they help in tailoring the experience to better target, attract, and engage customers and drive better buying behavior. The better synergy between a PIM system and a digital commerce platform is now relevant more than ever to personalize the experience to customers' context. In fact, increased business demand for a personalized experience with relevant offerings has driven enterprises to integrate a PIM system with their digital commerce engine seamlessly. Thus, enterprises must not neglect to test and select suitable PIM solutions for their eCommerce initiatives. Here, we discuss which PIM platform to choose between Pimcore and Akeneo for Shopify.
Why You Need a PIM
First, let's understand why you need a PIM platform. A PIM solution provides a streamlined way to organize, consolidate, enrich, and publish quality product data across different channels. IT enables marketing, commerce, and product teams with the ability to create, maintain and draw on a single, trusted, and shareable version of rich product content and digital assets for the purposes of multi-channel marketing and unified commerce. A PIM platform enables you to:
Organize and govern product data and rich product catalogues with custom hierarchies, modeling, versioning, enriching, and multi-channel ready publishing capabilities
Create a link between product data, digital assets, master data, content and commerce, and customer data
Automate operations to optimize performance and improve product data quality and accuracy
Improve data quality, data governance, and management
Increase the speed of new product launch
Multi-channel publishing for digital, social, and print for consistency and accuracy
Personalize the digital experience for any touchpoint in real-time
Drive compelling and personalized digital experiences for positive brand experience and improved customer loyalty
Amplify product proliferation and personalization

About Akeneo
Akeneo is a global leader in Product Experience Management (PXM) solutions that help merchants and brands deliver consistent and enriched customer experiences across all sales channels, including eCommerce, mobile, print, and retail points of sale.
Product Features
Content Syndication
Data Modeling
Data Quality Control
Digital Asset Management
Documentation Management
Version Control
Key Strengths
Akeneo PIM makes it is easy and simple for retailers and brands in B2C and B2B markets to collect data from any source, enrich and control the quality of product information, and distribute it to multiple channels such as e-commerce, mobile, print, and points of sale.
About Pimcore
Pimcore is an Open Source digital platform that aggregates, enriches, manages enterprise data, and provides up-to-date, consistent, and personalized experiences to customers. It offers a centralized solution for PIM, MDM, DAM, CDP, DXP/CMS, and digital commerce in a seamlessly integrated platform.
Product Features
Content Syndication
Data Modeling
Data Quality Control
Digital Asset Management
Documentation Management
Master Record Management
Version Control
Custom Portals
Digital Experience Platform (DXP/CMS)
Key Strengths
Pimcore's consolidated platform empowers enterprises with a single 'trusted view' of information (product, asset, and customer) to eliminate data silos, optimize operational efficiency, improve customer experience, and minimize IT costs.

Shopify
Shopify is a commerce platform that allows anyone to sell online, at a retail location quickly, and everywhere in between. Shopify offers a professional online storefront, a payment solution to accept credit cards, and the Shopify POS application to power retail sales. Shopify currently powers over 160,000 retailers in 100 different countries, including: Tesla Motors, Gatorade, Forbes, Amnesty International, Encyclopedia Britannica, Maxim Magazine, CrossFit, Black Milk Clothing, Herschel Sup.
Benefits of Shopify and PIM Integration
Operational Benefits
Ensure high quality and rich product data for publishing on Shopify
Manage thousands of SKUs within PIM
Streamline complicated pricing and product structures
Manage multiple product catalogues, currency, price lists, and product views
Automate the process to boost operational excellence
Upload legacy product data and digital assets in bulk without any hassle
Easily sync data between PIM and ERP
Take control of data governance and data stewardship for the global market
Business Benefits
Manage, conceptualize, transform, and publish any product data on any channel from a single source to eliminate redundancy and improve operational efficiency for better synergy
Extend beyond a rigid system and create seamless integration with other existing IT systems to innovate or introduce new ideas for unlocking new business opportunities and growth
Seamlessly deliver product data to all sorts of stakeholders, internal teams, suppliers, wholesalers, and customers to optimize product experiences across channels and devices
Save operational costs, resources, and hours of work with synchronized management of all product content and assets in a single source of the repository
Akeneo with Shopify
Akeneo also enables easy integration with Shopify. The integration handles all product data management, including collection, product variations, image exporting, and multiple store sync. Akeneo has some nice features that include:
Data completeness
Data enrichment and data quality insights
Rules engine for automated attributes filling
Automatic update of product descriptions
Monitoring error logs and statistics
Why integrate Pimcore with Shopify
Pimcore's technology stack is highly flexible. The platform is built on a standardized, robust, modular, open and service-oriented architecture – 100% API driven. It enables you to integrate and scale Pimcore PIM with customized features effortlessly and comparatively reduced TCO. Open source enthusiasts and software engineers like the flexibility of the system, because it makes so easy to implement and develop web applications for their clients.
Pimcore is built on the latest technology stack PHP/Symfony, MySQL, Elastic Search, Redis, and Varnish. It enables you to extend your platform beyond the core functionalities— such as multi-store management, merchandise management, customer care, localization, reporting, and analytics capabilities.
Pimcore has some unique features that are considered better than other PIM solution providers:
Printable PDF creating option
Master data management
In-built photo editor
Schedule product publishing for automation
Data hub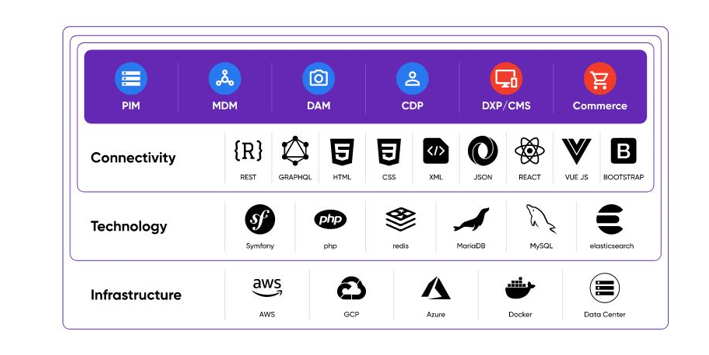 Customers' Verdict
Pimcore is a very flexible system, open-source without any license cost.
The key features customers love about Pimcore is its completely flexible and extensible data model that allows creating complex data models with ease.
Akeneo is also open source. It has simple implementation with powerful functionality, but customers suggest that it needs to enhance UI interactions.