Products are the essence of your business, and thus, it is essential to provide precise and detailed product information to your potential buyers
Products are the essence of your business, and thus, it is essential to provide precise and detailed product information to your potential buyers. A piece of accurate and reliable product information helps you build a better emotional connection with your buyers. It provides a compelling product experience that takes your brand experience to the next level.
Moreover, a detailed view of product information centralizes trusted data to fulfill specific business and channel needs. The management of product information can be utilized through many business contexts such as strategic, operational, or analytical. From these contexts, better business outcomes can be achieved. A product information management (PIM) system has an integral role to play in achieving these business upshots.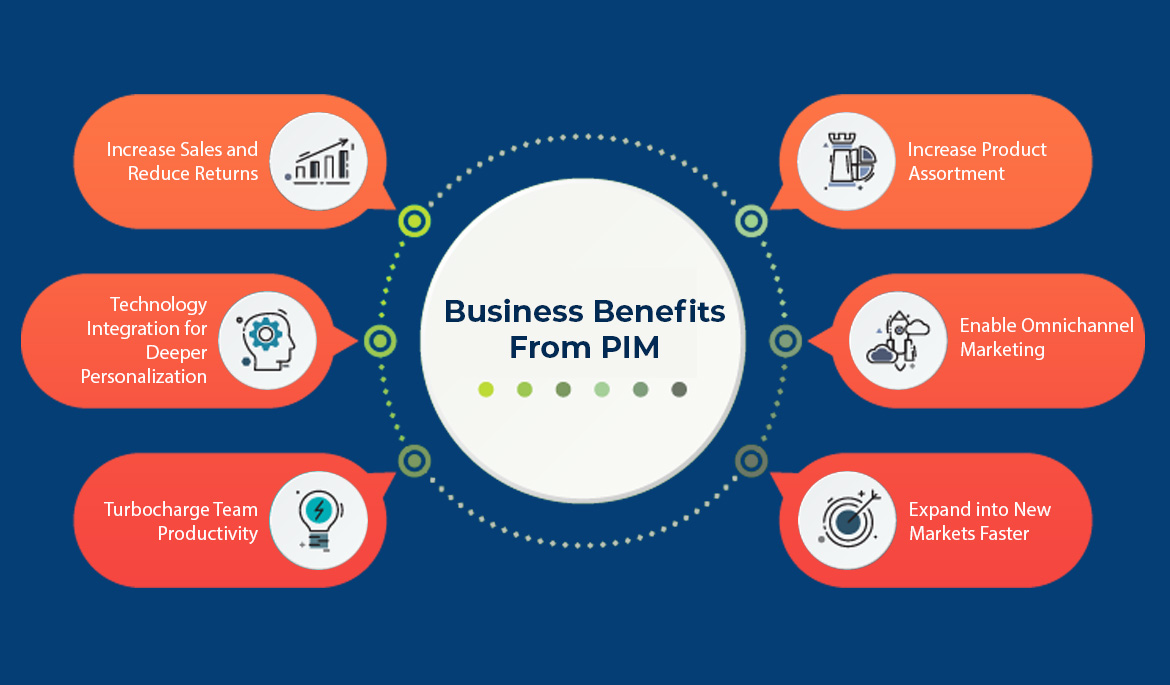 What is PIM
Product master data is the compatible and reliable set of identifiers, metaphors, and extended attributes that uniquely describes each product. Rich product content is customer-facing product information for the purposes of multichannel marketing and commerce. This is called product information management (PIM), which often overlaps with MDM but has different governance and reuse expectations.
Product Information Management (PIM) provides a single trusted view to consolidate, organize, and enrich your product information, create product catalogs, and seamlessly distribute product information to your different digital commerce channels. Packaged solutions for PIM provide marketing, commerce, and product teams with the ability to create, maintain and draw on a single, trusted, and shareable version of rich product content and digital assets for the purposes of multichannel marketing and unified commerce. Read More to Know- What is a PIM: A Definitive Guide
Examples: Pimcore, Akeneo, inRiver, and Salsify
With a product information management system, you can vividly enhance product data quality, accuracy, and completeness while streamlining and accelerating product catalog management. Organizations that use a PIM solution have the benefits of delivering compelling product experiences across multiple touchpoints, speeding-up time-to-market, improving conversion rates, and enabling new sales channels.
Also Read– What Challenges Does A PIM System Solve For Retailers?
Why Do You Need Product Information Management (PIM)?
Organization globally stay in the hunt for more profit and revenue. Without significant product expansion, it is not possible to amplify growth and sale. In the broader business context, growth is the primary force that is driving interest in PIM.
A PIM system allows you to:
Expand new product offerings across new markets and touchpoints
Quickly scale product catalogs and distribute product information to additional channels
Granularly customize the product experience for every customer
Create highly targeted product experiences tailored to different locales, channels, and languages
Eliminate the manual process of squabbling product information in spreadsheets or other outdated systems
Streamline product creation and enrichment processes
Boost internal efficiency and automate the process
Reduce operational cost and optimize savings
Business Benefits from Product Information Management (PIM) Software
PIM is a force-multiplier that gives your organizations the capability to ensure accurate, consistent, and up-to-date product information across all touchpoints and channels. With a robust PIM in place, you will be one step ahead of delivering the fantastic omnichannel experience you are compelled to deliver in today's digital economy.
Here are the main benefits your business can get from PIM:
#1. Increase Sales and Reduce Returns
Rich and high-quality product information influences buyers' attention, and it builds an emotional connection with the customers. When product data is presented contextually at the right time on the right channel, it contributes to higher sales conversion rates. In fact, detailed and up-to-date product descriptions generate long-term memory on the buyers' minds, thus creating more opportunities for drawing back the potential buyers.
Moreover, if your product information is inaccurate or does not resonate well with the actual product, it can be a major cause of higher product returns. A PIM system helps you completely and correctly present product information across different customer touchpoints by eliminating manual data errors, putting in place validating processes, and tracking incomplete product descriptions. These factors contribute to a lesser return rate of products.
#2. Next-Gen Technology Integration for Deeper Personalization
Voice assistants, chatbots, augmented reality (AR), artificial intelligence (AI), and smarter technologies have changed the digital commerce business paradigm. But, these technologies majorly demand structured data to create the maximum impact. With a PIM system in place, you always have refined and accurate product data that makes it easier for next-gen technologies to ingest and present the data the way it is required for personalization and contextualization. It further simplifies the process of deploying new sales and marketing initiatives for competitive advantages.
#3. Turbocharge Team Productivity
Your product marketing team works hard to craft and uphold engaging and attractive product descriptions that turn prospects into buyers. Without a PIM system, it can be a tedious task for your team to shuffle across multiple applications for maintaining high-quality and up-to-date product descriptions for different responsive systems, channels, and regions.
PIM automates the majority of the manual tasks so that your team can perform the job that is required from them to do— making your products as desirable as possible and creating a dynamic catalog aligned with all promotional campaigns or seasonal sales.
With PIM, you can easily import raw product data from different source systems or apps and export the enriched data to the targeted channels in a shorter time. PIM can also transform a messy product enrichment process with built-in workflow engines that evidently direct each concerned operator through their next steps. All these things help boost team productivity and enforce more collaboration across divisions, departments, and regions.
#4. Increase Product Assortment
In today's time, every organization wants to expand its products, channels, and markets while increasing product assortment. A PIM system enables your team to spend less time on manual tasks such as organizing current products and onboarding new products. PIM lets you quickly organize products into family trees that automatically share attributes and descriptions.
You can also perform bulk actions to mass enrich and edit product information. Plus, using business rules, you can automatically assign values to products, groups, or categories.
#5. Enable Omnichannel Marketing
Winning the omnichannel game is becoming every organization's priority. In fact, it is getting more intense in today's hyper-competitive environment. But the truth of the matter is that every channel and platform has different rules and quality standards to optimally present and syndicate product information.
A PIM system gives the capability to share transformed, mapped consistently, and tailored product information by meeting different channels' unique format requirements, thus accelerating your omnichannel efforts.
#6. Expand into New Markets Faster
PIM has completely changed the game of manual product enrichment and localization process. It has now replaced the time-consuming and error-prone process with a highly automated and structured process optimized for distributed teams. Multiple departments and teams can now easily collaborate to speed up the process of translation, review, and approval to localize and globalize product information for expansion into new regions and territories.
Closing Remarks
The use of rich product information and digital assets is becoming progressively more context-specific. The key driver for this change is the increasing need to create customer-centric experiences, for instance, devices (such as mobile), and channel optimization of product content. A robust PIM system enables a 360-degree view of products to achieve product information intelligence and improved product experience with enhanced insight, decision making, and process automation.
Benefits to eCommerce Managers

Accurate, consistent, and up-to-date product information for all channels
Omnichannel enablement with enriched product data
Better collaboration and cooperation with suppliers and distributors
Shorter time-to-market for existing and new products
Enhanced brand experience

Benefits to Marketing Team

Well-organized collaboration across different teams
Enriched product data and digital assets for creative campaigns
Faster integration with other platforms
Improved capabilities to analyze existing campaigns
informed decision-making capability to take new initiatives

Benefits to IT Managers

Lesser hassle of managing multiple systems
Better agility and scalability for business growth
Automated processes for import/export of product information
Seamless integration with ERP, CMS, and e-commerce platforms
Reduced operating costs and risks